Linkblog is featured today on 10words.io, currently on the homepage and will also go out via their newsletter and twitter!
To all the 10words readers - thanks for stoping by!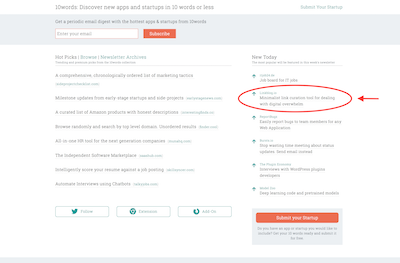 A good example of a linkblog is my linkblog which I also publish using the custom domain feature so that it nicely fits in with my other web presences.
Some other examples of use are posting links to blog posts and finding a video you watched last year and the latest feature addition is the navbar globe icon. Running a linkblog is a great way to build some context around what you are doing.
This blog post wouldn't be complete without a coupon code. If you've read this far then you're at least curious, if you use coupon code 10WORDS at check out get 30% discount on your first year, and it's a 30 day money back guaranty.
If you liked this post you might find my daily linkblog interesting, and there's also a weekly newsletter.
For enquiries about my consulting, development, training and writing services, aswell as sponsorship opportunities contact me directly via email. More details about me here.
subscribe via RSS